Jermaine Paul Crowned King of NBC's The VOICE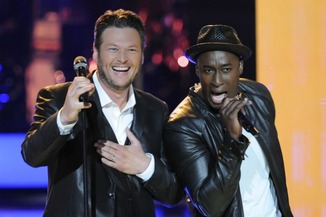 Who won NBC's hit vocal competition show The Voice? Jermaine Paul.
I said, straight up, that Juliet Simms should've won. I still do, but alas, I was wrong.
I put Tony Lucca and Chris Mann as 3rd and/or 4th. I was right about that, Chris came in 4th and with less than a percentage difference Tony came in 3rd.
Jermaine Paul came in first, beating out Juliet Simms.
The show was drawn out over two hours, as expected but at least they took the high road and booked some huge names like Justin Bieber and Lady A. The show also did a few light segments featuring the goofiness of the judges and the popular "Purrfect the cat," which has known to share scenes with Cee Lo randomly throughout the show.
NBC has already shifted gears into Howard Stern land, with America's Got Talent premiering next week. They really want high ratings bad! Good for NBC on keeping things hot in a genre that has been all over the place ever since American Idol became a sensation. Jermaine will soon be on the Today Show. Hopefully we'll be seeing the other finalists again soon—if they keep with it anyway.
Related articles