The Voice Recap Final Four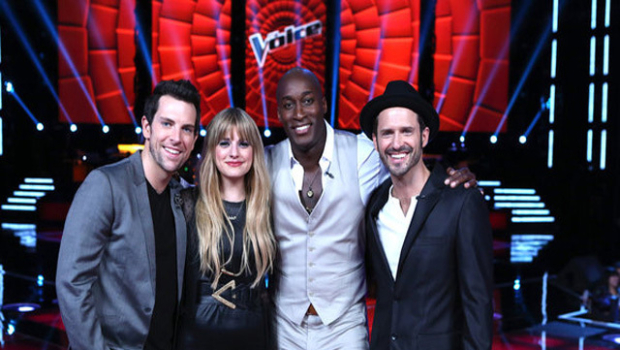 Who is going to win NBC's hit vocal competition show "The Voice"?
I say, straight up, that Juliet Simms should win.
I'll get back to that point in a moment, but first I should give you the rundown under the teams of Adam Levine, Blake Shelton, Cee Lo Green and Christina Aguilera.
Team Adam has Tony Lucca. This guy stands out in particular because he was on the Mickey Mouse Club back in the day, and Christina Aguilera was a co-star on that show. Now she is rich and famous and he is a small-time player trying to make a major name for himself. While Aguilera has mostly been friendly and jovial in regards to him, after one performance, she said that he was "one-dimensional." The other judges praise him and speak highly of him as they do the other finalists. I think this guy is entertaining and has a good sound, but I don't think it is anything spectacular.
Team Blake has Jermaine Paul. This performer is great, but not exactly unique. He performed the R. Kelly hit "I can fly" and he sounded just as good as the original. Did he make it all his own or put an interesting spin on it? No. It was great, and worthy of the source material—but still, not interesting enough to make it distinctive.
Team Christina has Chris Mann. This artist is the closest thing I have seen in a vocal competition to Josh Groban. He is classically trained and could perform opera, which is impressive. He performed a duet with Aguilera and it was beautiful. I felt like I could be watching a Disney movie and Aladdin was whisking away the princess through the skies. Seriously, he could do something timeless like a Disney Fairy Tale or more specialized like the 3 Tenors. Chris is versatile and could definitely find a home in that classically-trained-voice market.
Team Cee Lo has Juliet Simms. "I have been on stage my entire life," says Juliet, who is now the lead singer of a band called Automatic Loveletter. All I can say is that it shows that she is seasoned. Simms has that rare quality of injecting emotion, power, and rawness into her music like one of those legends from the 60s that people are still talking about to this day. She could sell CDs and definitely have a strong following in the rock genre. Juliet is the most unique and raw singer I have seen on this show, and that is an important critique. I have been less interested in American Idol this year because, while the talent has been good, most of the singers sound very generic to me, like above-average karaoke. If I heard most of them on the radio I wouldn't think twice. With Juliet Simms, I would think twice. Enough said.
Who will win The Voice? We'll find out tonight on NBC.  Vote while you still can if you are drawn to any of these finalists, and if you are not, vote for Juliet!