P.A. Stabbing Suspect May Have Had Issues at School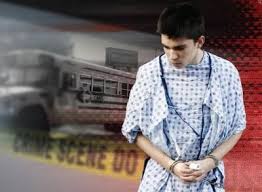 The stabbing spree at Franklin Regional High School in Murrysville, P.A. that put 22 classmates and one security guard in the hospital with several victims in serious or critical condition, is going through several psychological evaluations.  His attorney, Patrick Thomassey, said that Alex Hribal, the 16-year-old sophomore accused of this heinous crime on the morning of April 9th just before the start of classes is said to be "confused, scared and depressed."
"I don't think he at this point understands the gravity of what he did. I don't think he realizes how severely injured some of these people are. And, hopefully, there's no death involved in any of these. We're praying that everybody is all right." Thomassey said in an interview with "Good Morning America." The motive for the rampage is under investigation.
Thomassey said he's unaware of any signs of Hribal's being bullied, adding that the teen's parents are shocked and horrified. "They could not have predicted that this was going to happen," he said. "They don't understand how this occurred."
Authorities charged Hribal as an adult with four counts of attempted criminal homicide, 21 counts of aggravated assault and one count of possession of weapons on school property. He was being held without bail in a juvenile detention center in Westmoreland County. Maybe this will a deterrent to other school kids thinking of acting out instead if asking for help.
"People don't just snap. There's a buildup that takes place," said Clint Van Zandt, a former FBI profiler. "There was some final catalyst, one last psychological straw that got pulled from under this guy."
"Using a gun is not as personal as using a knife," said Eric Hickey, who worked on the FBI's Unabomber task force and advises federal, state and local law enforcement agencies on criminal investigations. "When they stab someone, that's a different dynamic," he said. "It's much more up close."
Folks, lets wake up here!  Parents need to keep tabs on their children with regards to everything they do! There are clear warning signs that maybe these parents missed or simply chose to ignore.  I find it absurd that they knew nothing.  This vicious attack on his fellow classmates as targets clearly demonstrates a problem or issue he had at school.  If this were not school related, he might have gone to the mall or playground but no, he went to school intending on hurting or killing his classmates!  This was an act for help or attention.
Wake up parents, your children need you.