Qantas Workers Strike by Only Using Left Hand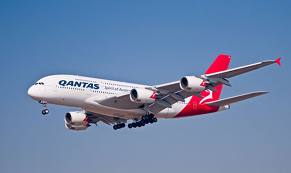 The airline industry is no stranger to financial problems with fuel costs keeping tensions high for the managers working to keep fares low and consumers happy. Unfortunately for Qantas, rising costs have led to concerns of outsourcing and an ongoing labor debate has ensued with their pilots and engineers, according to Reuters.
The Australian and International Pilots Association, which represents 2,500 pilots, voted to authorize strikes by long haul pilots for up to two full days, marking what could be the first industrial action by pilots since 1966, the union said.
Their vote comes after Qantas engineers authorized a series of brief rolling strikes last month to protest over pay conditions and the airline's growing use of overseas maintenance workers.
Qantas pilots have been demanding increased job security amid talk the airline is planning to revamp its loss-making international operations, and may axe some routes and move some operations overseas.
The airline is due to announce a restructuring of its international operations on August 24.
Several union engineers announced that, starting Friday, they will continue to work, but only with their left hands. The Licensed Aircraft Engineers Association explained today that the moves were industrial tactics necessary to keep their campaign for wage rises and job protection alive, but Qantas is worried that this could turn into a safety issue. According to The Wall Street Journal, the airline has expressed concerns that the decision of the right-handed engineers to use their left hands will put passengers in danger, but the union quickly pointed out that the men are very senior engineers and quite experienced.
Union secretary Steve Purvinas said today the left-handed action would be confined to two members of the union's executive, who could choose when and where they would do their job using only their left hand.
"They're both very good engineers… I imagine they'd probably be good with their left hands," he said.
It was an action, along with a one-minute strike, that would not disrupt the wider travelling public.
Mr Bell, the union's vice-president, works on Qantas line maintenance at Tullamarine and said he was confident he could do his job left-handed from time to time.
"I'm very handy with my left hand, for 30 years in this industry I've been handy with either - I'm naturally right handed," he said. "You can work a screwdriver with both hands."
"I don't see any problems with safety and the name of this game is to take an action which won't disrupt the passengers."
The pilots clearly are expressing unhappiness by voting to take industrial action for the first time in forty years. To give a sense of how angry the pilots are: 94 percent of them are in favor of some sort demonstration. Now Qantas executives are waiting to see what form the action ends up taking.
Bottom Line
All I know is, if I happen to be flying Qantas in the near future, I'll be asking for a "left-handed flight" if possible. Perhaps they will charge an extra fee for that luxury. Of course I am joking, although some people likely will actually try asking for this. At least give it up to Australia for their creativity.