Super Bowl XLVI : Supporting the Economy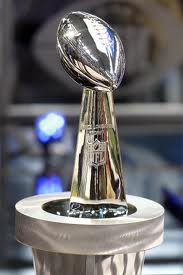 The big game will kick off Feb. 5 at 6:30pm ET in Indianapolis on NBC and the spending in preparation for the event has been high.
According to a new survey by the National Retail Federation's Retail Advertising and Marketing Association, conducted by BIGInsight, consumer spending is expected to reach an all-time high this year, with the average watcher projected to shell out $63.87 on Super Bowl-related merchandise — from team apparel and TVs to snacks — up from $59.33 in 2011.
With retailers pushing sales marketed to the Super Bowl like crazy, it may come as no surprise that spending is expected to reach $11 billion.
When there are 171 million fans expected to watch, you can bet that someone's economy will benefit.
DailyFinance reports that companies such as Best Buy are offering Super Bowl promotions on big-screen TVs, such as a 70-inch set for $1999.99.
I'm not sure most of us could afford that TV even if it is "on sale." Then again, I suppose that might be cheaper than flying to Indianapolis and getting tickets.
Amazon.com is featuring a dedicated Super Bowl shop, spotlighting deals like 55-inch Samsung TVs and "game day" furniture, including recliners and TV stands, Giants and Patriots jerseys, kitchenware items like the Margaritaville Chillin' Pour Liquor Chiller for $55.36, and "game day groceries," including Jack Link's beef jerky.
Heck, you go to any major retailer and you are sure to find some Super Bowl stuff. I went to Target's website and typed in 'Super Bowl' in the search box. All sorts of items then popped up some of which were out of stock such as the "touchdown chili bowls," the "party pack," the "touchdown 3-section condiment server," as well as other bowls and plate related items destined to hold chips and salsa.
We all know that many viewers may not even care that much for the Patriots or the Giants. They do care about all the merchandise, the commercials, the hype, the celebrities attending, and the social parties centered on the game. The majority of the football fans surveyed -71.3% — plan to spend on food and beverages, 8.6% will shell out for team apparel and accessories, 6.4% will buy decorations, 5.1% will buy a new television expressly to watch the game, and 2.4% will splurge on new furniture or an entertainment center.
Credit card companies are likely seeing a nice little spike in sales, no doubt.