'To Catch a Predator's' Chris Hansen Caught Cheating on Camera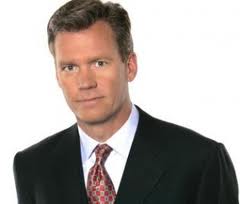 It seems that Chris Hansen, famous for hosting the Dateline offshoot 'To Catch a Predator', may be on the bad guy side of the camera this time, as speculations grow of an affair with a 30 year old journalist in Florida.
According to the Daily Mail, Hansen who is married, was secretly filmed on an illicit date with a blonde television reporter 20 years his junior. He was busted taking her to dinner at the Ritz-Carlton before returning to her apartment for the evening.
Apparently, the entire sting operation was arranged by the National Enquirer, who heard from a source that Hansen met the reporter, Kristyn Caddell, at a party in Palm Beach last March.
"Chris and Kristyn got on so well that she ended up going back to his room at The Colony Hotel in Palm Beach," the source says, claiming that Caddell "later boasted to pals about staying the night with him."
What did she say? "Hey guess what? I spent the night with the 'Predator' guy!"
Seems like a weird thing to brag about, doesn't it? Perhaps we'll see Hansen on an upcoming episode of 'Cheaters'?
For those who never saw the show, 'To Catch a Predator' used hidden cameras and decoys to catch pedophiles and online predators in the act. Launched in 2005, the show is devoted to the subject of identifying and detaining those who contact people they believe to be below the age of consent over the Internet for sexual liaisons. You would think Hansen would be able to spot   hidden cameras by now, but apparently not.
The show's producers work with online watchdog Perverted-Justice, whose volunteers pose as underage girls offering sex on the Internet. But when the potential sexual predators arrive to meet the girls, they find themselves confronted by Hansen, his film crew and sometimes the police.
Neither Hansen nor NBC has yet commented publicly on the alleged affair.