2012 Oscars: BQB Highlights of the Fashion and Films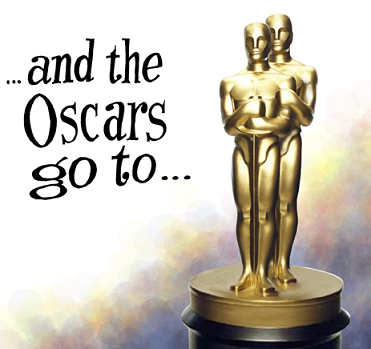 2012 Oscars
The 2012 Oscars. Here is a ceremony that is in some ways like the Super Bowl.
I was making chit-chat with a woman earlier today and asked if she watched it. She replied that she did but she hadn't seen any of the films. After asking her why she should watch it, she said that she liked to see what people were wearing.
This is like those who watch the Super Bowl and have no interest in football, but watch the program for the commercials.
On that note, I think we heard perhaps one too many times the phrase, "Who are you wearing?"
The most controversial thing that happened was on the red carpet. The comedic actor Sacha Baron Cohen came dressed in character for his upcoming film "The Dictator" as Admiral General Aladeen, a deposed North African dictator, and he was carrying an urn which he claimed were the remains of Kim Jong-Il. When being interviewed by Ryan Seacrest, Cohen spilled some of the ashes on him, to which Seacrest did not look happy (although he probably was expecting something goofy).
Seacrest, a producer of the red carpet segment, likely sees the value of controversial stuff like this since anything newsworthy could make for a better audience the following year.
You have to appreciate the fact that Cohen really does try to stir things up and gives the media something to write about, and while this might have offended some people, it gave journalists a story to share in an otherwise predictable annual event.
As far as fashion goes, I'm going to go against mainstream opinion on one thing: Angelina Jolie. Everyone seemed to be talking about how spectacular she looked and I didn't think so. My thoughts were validated by the woman I was chit-chatting with today, who agreed that she looked skinny and the dress was not particularly flattering for her figure. The thing that turned me off was when she got up to the microphone as a presenter, she had that look—the "look how hot I am" look, and that is just obnoxious.
Meanwhile I will agree that Gwyneth Paltrow looked great, and it was nothing over the top or glitzy, but rather elegant and classically beautiful. J-Lo, in contrast, took the exotic route but her body is appropriate for that so it worked well for her. She didn't wear anything with color, but it still shaped her figure well.
After discussing fashion in Hollywood, I feel the need to drive to Hooters in order to regain my heterosexuality. Ah well.
I must say that the movies themselves were quite fantastic this year. Just last Saturday night I went to see "A Separation" which is an Iranian family drama, and this film ended up winning the Oscar for foreign film. I was so happy about this because the movie was extremely compelling and engaging throughout. I haven't seen many of the other foreign films nor am a connoisseur of arthouse film, but I was happy to pick a good one. If you are up for a drama and do not mind subtitles, go see "A Separation."
I talk about that movie because most of us have likely not heard of it. Conversely, the movie that ended up winning best picture and actor, "The Artist" actually generated quite a bit of buzz and was playing at some mainstream theaters as well as the smaller ones. Perhaps it was due to the fact that it is a silent movie, which thereby makes it standout.
Billy Crystal was exactly what anyone would expect of Billy Crystal, fun, funny, entertaining, and professional. There was nothing new about his performance, but it was good and the worst thing anyone has said about him was basically that—same thing as past shows. If that is the worst thing to be said, then you are doing your job and doing a good job at that. I'm not sure why I haven't really seen him in any movies or TV lately, but who cares—he did his thing. By now, he probably would have more gray hair than what he showed—but hey, we all try our best to look young, even sometimes the men.
Another year of movies has been celebrated—it's now time for the industry people to get back to work and prepare for another year of (hopefully) interesting and well-acted cinema.
I'm optimistic.
YouTube 2012 Oscars