Willie Nelson : "The Troublemaker" Not Yet Off the Hook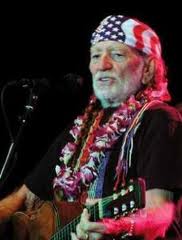 Country crooner Willie Nelson may face jail time if Hudspeth County Judge Becky Dean-Walker has anything to do with it. Nelson was arrested November 26th last year while traveling through Texas.  Border control agents conducting a routine stop at a check point in Sierra Blanca, Texas, unsurprisingly smelled something suspicious on Nelson's bus. They arrested
Nelson for possession of 6 ounces of marijuana, a misdemeanor in Texas. The 78-year-old Nelson could spend up to a year in jail for this offense, but prosecutor Kit Bramblett negotiated a deal whereby Nelson pleads guilty to possession of drug paraphernalia and pays a $500 fine and $280 in court costs. The charge would be removed from Nelson's record if he manages to stay out of trouble for 30 days.
Maybe it was the joke Bramblett publically made about reducing the fine to $100 if Nelson would woo the court with his 1975 hit "Blue Eyes Crying in the Rain," but Judge Becky Dean-Walker turned down the plea bargain. The surly judge apparently felt that Nelson was getting star-treatment and evading the sort of justice the court ordinarily metes out to those who aren't country-singing legends. Prosecutor Bramblett has commented to the press that the judge doesn't have the jurisdiction to dictate who he prosecutes. Bramblett hopes to iron out a deal acceptable to Judge Dean-Walker over the next two or three months. If not, the prosecutor may choose to shelve the case, saying, "It can lay there forever as far as I care." Should the judge free Willie or should the singer-songwriter who penned "The Troublemaker" be allowed on the road again?
Let us know what you think.